Tru-Vision Plastics works as a cohesive team to produce the highest quality American-made plastic product on time, every time for our customers and theirs.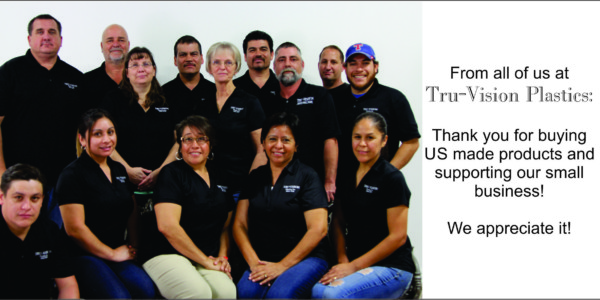 Tru-Vision Plastics Inc.
Owned and operated in Brenham, TX, Tru-Vision Plastics, Inc. is a plastics manufacturer that supplies two main industries, and provides custom die cutting products.
2023 RETAIL CATALOG
Safety & Aggregate Blasting Faceshields and Lenses
We are known for producing high-quality and high volume OEM Face Shields and Aggregate Blasting Lenses that sell through Safety Distribution companies. (safety catalogue)
POP Retail Merchandising solutions
We're known for our innovative Stic-N-Pic Adhesive Retail Merchandising Strip System that includes our Patented Stic-N-Pic Adhesive Retail Merchandising Strip and Auto-Stic Machine. We produce standard Retail Merchandising Strips as well. (Retail Merchandising Catalog)
Custom Die Cut Parts
Let us introduce your business to custom plastic solutions, large or small
Call Now
---
Precise, Specific, Detailed, Accurate… All Things Matter!
Whether you're looking for plastic die-cutting, plastic face shields or an innovative way to merchandise retail products. Tru-Vision Plastics, Inc. is here to serve you. Home of the patented Stic-n-Pic Retail Merchandising Strip and a host of other customer-centric solutions, we strive to be your all-in-one partner for custom plastic solutions. We work with our customers as part of a cohesive team, to produce the highest quality American-made plastic products on time, every time.
Our capabilities are expansive, but we specialize in serving the retail merchandising and safety & abrasive blasting industries. Our signature products include our always-improving Auto-Stic Machines, ANSI-compliant visors and face shields and customized plastic products for retail merchandising.
We Strive to Provide Value!
No matter the customer or the product, we strive to provide value, while maintaining fair and honest prices. In doing so, we also offer employees an excellent work environment where they're treated as partners and have the opportunity to grow in responsibility and compensation. Above all, we treat everyone we serve with the respect they deserve. It's just part of our principled approach to building relationships that last.
We hold global patents for our Stic-n-Pic Retail Merchandising Strip used by multinational companies!
We pride ourselves in retaining customers over decades and through word-of-mouth.
Our business is proud to be locally owned and operated in Brenham, Texas.
Founded in 1999, we have more than two decades of industry experience to share.
We offer credit terms to qualified customers. Inquire today for more information.
The History of our Company
Envisioning a company that values its employees, customers and community, Ted Dean developed Tru-Vision Plastics with Christian principles, believing that, with God, all things are possible. (Matthew 19:26)
Since then, Tru-Vision Plastics, Inc. has established a worldwide presence—thanks largely to our Stic-n-Pic solutions. We operate out of an 80,000sq/ft manufacturing and warehouse facility in Brenham, TX, where we prize continued growth and innovation. At the helm of our operation is a leadership team with more than 40 years of combined management experience and 50 years of combined production experience.

Innovating Plastics Solutions
At Tru-Vision Plastics, Inc., we're not just plastics manufacturers; we're solutions providers. Contact us today to discuss your needs and let us be your partner in finding an industrious solution to them.
Proudly serving Brenham, TX and surrounding areas.

Call Now