Our VISION STRIPS are an economical solution for product placement. Once in place, your products will be in the VISION of potential buyers. Our VS series come in a variety of attaching methods ranging from interlocking hooks to our Stic-N-Pic®** strip with adhesive spots. Each allows for easy attachment of your products.
Our VS series also come in a variety of mounting types from simply using an S-Hook, to Channel Mount, and with adhesive.
VS series strips are made from High Density Polyethylene and are available in the following thicknesses:
.020 (.508 mm) for light weight products
.024 (.6096 mm) for medium weight products
.030 (.762 mm) heavy weight products
.040 (1.016 mm) for extra heavy products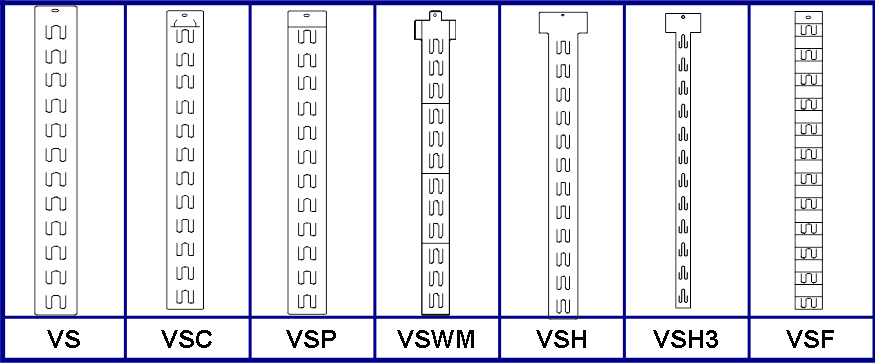 Enhance your retail space and captivate customers with our innovative Retail Merchandise Strips. Designed to maximize product visibility and boost sales, these versatile strips are a must-have for any retail establishment. Whether you run a convenience store, supermarket, or boutique, our Retail Merchandise Strips will transform your shelving and create a captivating shopping experience for your customers.
Attention-Grabbing Display
Our Retail Merchandise Strips are expertly designed to draw attention to your products. Each strip features multiple hooks or clips, allowing you to showcase a variety of items in a visually appealing manner. By utilizing vertical space and strategically placing these strips throughout your store, you can effortlessly create an eye-catching display that encourages customers to explore and make impulse purchases.
Versatility and Customization
We understand that every retail space is unique, which is why our Retail Merchandise Strips offer flexibility and customization. Available in various lengths and configurations, you can choose the strip that best fits your shelving units and product assortment. Additionally, the adjustable hooks and clips allow you to accommodate different product sizes and packaging styles, ensuring a seamless fit for any merchandise.
Increased Product Visibility
One of the key advantages of our Retail Merchandise Strips is their ability to enhance product visibility. By suspending items from the strips, you elevate them to eye level, making it easier for customers to spot and evaluate your offerings. This increased visibility not only improves the chances of purchase but also creates a visually appealing aesthetic that elevates the overall shopping experience.
Efficient Space Utilization
Retail space is often at a premium, and efficient use of available space is crucial. Our Retail Merchandise Strips are designed to optimize space utilization by utilizing vertical surfaces. By attaching these strips to walls, end caps, or existing shelving units, you can make the most of every inch of your store. This not only allows you to display a wider range of products but also creates a clean and organized shopping environment.
Streamlined Restocking and Inventory Management
Keeping your shelves stocked and organized is essential for a successful retail operation. Our Retail Merchandise Strips simplify the restocking process by providing clear visibility of product levels. With items suspended on the strips, it's easy to identify when restocking is needed, saving you time and effort. Additionally, these strips make inventory management more efficient, as products are displayed in a structured manner, reducing the chances of misplaced items or confusion.
Durable and Long-Lasting
We understand that durability is essential for any retail fixture. Our Retail Merchandise Strips are built to withstand the demands of a busy retail environment. Made from high-quality materials, they are sturdy and long-lasting, ensuring reliable performance even with heavy or frequently changing merchandise.
Incorporate our Retail Merchandise Strips into your store layout and revolutionize your product displays. With their attention-grabbing design, versatility, increased visibility, efficient space utilization, and durability, these strips are the perfect solution to showcase your merchandise effectively. Upgrade your retail space and watch as your sales soar, thanks to our Retail Merchandise Strips!