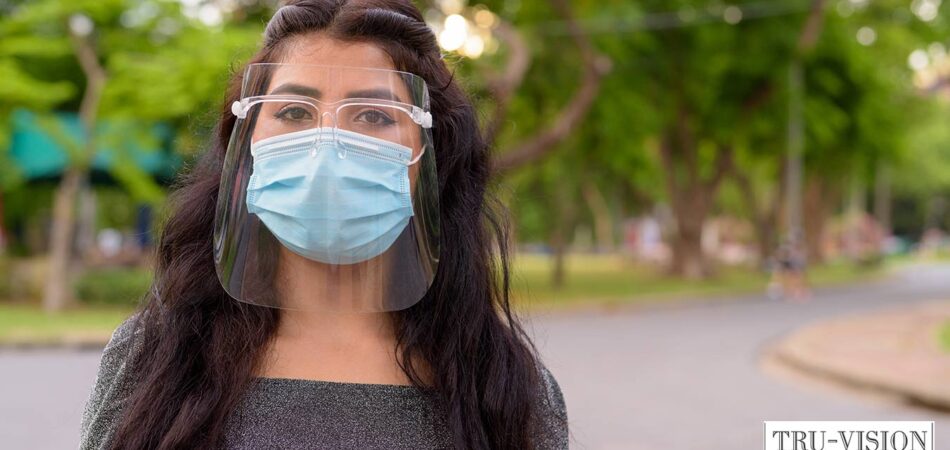 A face shield is a kind of PPE (personal protective equipment) mainly used in the healthcare field to protect the face (mouth, eyes, and nose) from sprays and splashes of body fluids. It is usually open at the bottom and sides. This medical equipment also discourages you from touching the face because it acts as a physical barrier.
A mask is a covering for the nose and mouth worn mainly to reduce or avoid spreading infectious agents such as bacteria or viruses.
Is It Ok to Wear a Face Shield Instead of a Face Mask?
No, wearing a face shield is not like wearing a face mask. Germs and airborne viruses can spread through tiny, airborne particles called aerosols that people emit when they talk, sneeze or cough–these can get through if you're wearing a face mask.
Aerosols usually stay hanging in the air for different times, depending on the airflow in the area and size. Based on how they behave, the aerosols exhaled through the mouth and nose of a person wearing a face shield can travel easily through the open sides of the face shield.
Face shields also don't absorb breath droplets as a face mask does. They avert some droplets downwards. Since face shields are open at the bottom, germs from a person's breath may easily find their way into the air. This is how germs spread. That's why experts don't recommend using a face shield instead of a face mask.
So, you still have to wear a mask when wearing a face shield. Face shields don't give similar protection as masks. If you wear a face shield, wear a face mask beneath it.
What Do Face Shields Not Protect the Face From?
Shields don't provide similar protection as masks. They are only effective in preventing viruses when worn with face masks. They don't protect the wearer from being infected or spreading the virus.
Face shields have gaps that allow harmful droplets to get to new hosts. Droplets can go around face shields at the sides or bottom. The virus can infect the person through the nose, mouth, or eyes.
What Is the OSHA Standard for Face Shields?
Face shields should meet OSHA's 29 CFR 1910.133 standard. This standard requires face and eye protection when employees are exposed to face or eye hazards like flying objects, liquid chemicals, molten metal, caustic liquids, acids, chemical vapors, gasses, or potentially harmful light radiation. OSHA recommends:
Workers to have eyewear protection that fits appropriately and is designed for that particular hazard
Face shields should always be clean, with no scratches, breaks, or cracks.
Every worker must know how to use personal protective equipment during an emergency. They must also be supplied with eye and face protection training material and be familiar with them.
Eyeglass wearers must have safety equipment that fits well and comfortably on their glasses. Contact lens wear must also have protective glasses to protect the eyes from contaminants.
Prescription glasses aren't regarded as safety gear under OSHA safety standards as well as other agencies.
Eyewear must always be sterilized before storing them in an approved protective box.
Face shields aren't enough to shield the workers' faces and eyes. They must be used together with protective eyewear. However, only OSHA-approved face shields should be used.
What Types of Tasks Require That a Face Shield Be Worn?
Below are some most common tasks where workers need to wear face shields to protect them from potential hazards:
Construction
Debris, dust, and other fine materials can find a way through your safety glasses and get into your eyes. Always use a face shield when using angle grinders, chainsaws, or related power tools.
Chemical Applications
Chemicals are hazardous to the face and eyes. Chemical burns can leave permanent scars on your face, while fumes can cause permanent eye damage. Splashes from chemicals can also leave workers with vision issues and even blindness.
When handling acids, corrosives, chemical adherents or strippers, and/or bodily fluids, wear face shields. Typical safety eyewear doesn't provide liquid splash protection for these hazards.
Medical Laboratories
Pathogens from infected blood are a concern, especially where mucus membranes are exposed, such as the mouth, nose, and eyes. Blood and bodily fluids can penetrate these areas quickly upon contact and pass on diseases such as HIV and Hepatitis.
Extreme Temperatures
Handling molten substances, maintaining a furnace, or engaging in welding requires a face shield. Some face shields, usually used in foundries, come with special coatings for additional protection from extreme heat.
Electrical Applications
High-voltage areas require protection from likely arc explosions, which might result in severe burns and even death! Some face shields are explicitly designed for high-voltage areas and must be used when working in these areas.
Machine Operations
Safety glasses work great in protecting your eyes, but they can't protect your face. Safety glasses can also fail if an object with high velocity or mass hits. Face shields offer additional protection from high-velocity and high-mass impact hazards. So, wearing a face shield on top of your face shield is recommended.
Face shields offer additional eye and face protection from different hazards. Wearing extra safety protection, like glasses underneath a face shield, is recommended, given that their bottom and sides are usually open.
Where To Buy Face Shields
Many employers now recognize face shields because of the additional protection they provide to employees. Their usage is growing fast. Are you looking for face shields and want to know where to purchase them? Tru-Vision Plastics, Inc. is the best place to buy face shields.
Tru-Vision has abilities beyond measure. Our ever-improving face shields are one of our brand products for selling retail. We also manufacture standard Retail Merchandising Strips. We do our best to supply valuable products and services while maintaining reasonable prices.
For more information about face shields as well as other products we have, visit our website or contact us at (979) 836-1091. We are here to discuss with you what you need.