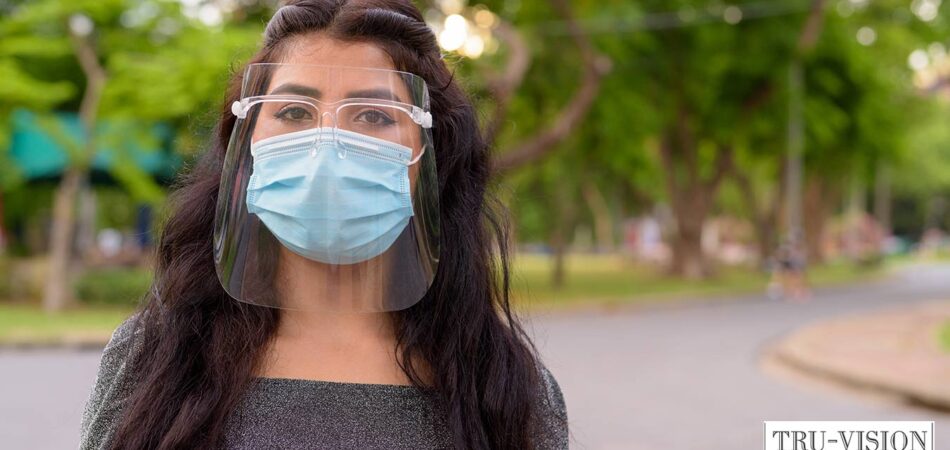 Face shields are a part of (PPE) personal protective equipment. They provide overall protection to the whole face from various hazards, like chemical splash, flying debris, arc flash, and extreme heat. Face shields vary in design and purpose. Some face shields are designed to shield the whole face and the eyes from hazards. They might extend above the side of the head. Some of them shield just a portion of the face.
The plastic panel hanging from the upper forehead extending underneath the chin prevents anything from reaching the face and eyes. Workers should wear face shields over primary eye protectors (goggles or safety glasses). Generally, they should not be used alone but with additional protective equipment. Therefore, they fall under the category of adjunctive personal protective equipment.
They work magic, especially when there is possible exposure to dust or mist, burning sparks from furnace operations, flying objects or fragments, impact or explosion, possible splashes from melting liquids, or excessive temperatures and cold. Face shields come with a lift-front or removable design. The removable design allows easy replacement, whereas the lift-front design allows easy lowering and raising as the job requires.
Face Shield in Industries and Applications
Apart from being used widely in the health care sector, face shield visors are used in many industries, such as oil and gas, chemicals, construction, and manufacturing.
Let's discuss several of the most common industry applications requiring face shields:
Chemical Plants
Face shields are highly used in chemical applications due to their high visual clearness, stiffness, and firmness. Face shields can withstand breaking and clamp over a high-temperature range under normal pressure. In addition, they resist oil and grease excellently.
In addition, they have extended longevity and don't get bent or unclear under usual temperatures.
Wear face shields when handling corrosives, acids, chemical strippers, or, since standard safety eyewear doesn't offer the essential fluid splash protection for these hazards.
Machine Shops
Workers grinding metal is an everyday occurrence in machine industries and shops. They are supposed to shield their eyes and faces by wearing a face shield. They should also wear additional eye protection beneath the face shield.
Construction
Everyone is exposed to the flying job site debris and impact hazards on construction sites. As a result, workers should use face shields to shield them from sparks or debris.
In addition, most tools that cut and work with metal, such as metal chop saws or welding equipment, recommend using face shields.
Landscaper
Eye protection is essential when landscaping. Dust, sticks, tree branches, and flying rocks are always nearby. This means workers require having the whole face protected.
A face shield is one of the essentials that will make your landscaping work enjoyable and trouble-free. A face shield will guarantee more focus on the job until you've finished without worrying about dirt on your face.
Face Shield Selection
When choosing face shields, it is essential to value the importance of ease of use, fitness, and comfort. A face shield should also fit securely. The primary way to ensure cozy fitness is through its headgear (suspension).
The headgear is typically adjustable for depth and circumference. The top band adjusts depth, whereas the headband adjusts circumference fit.
When appropriately worn, the face shield must be centered for optimal stability. In addition, the suspension must sit between half an inch to one inch above the eyebrows.
The Best Place to Purchase Face Shields and Visors
Employers have recognized the additional protection provided by face shields, and their usage is fast growing. Departments are supposed to purchase required (PPE) personal protective equipment for the workers relating to face and eye protection.
Tru-Vision Plastics, Inc. is the perfect place to be if you're looking for face shields, plastic die-cutting, or up-to-date ways of selling retail commodities. Being in operation since 1999, we are proud to have over two decades of industry knowledge to share.
We are the company that provides the Stic-N-Pic Retail Merchandising Strip, and we value customers' perceptions and expectations. We're proud of our efforts to associate custom plastic solutions with our valued customers. Our clients are part of us because we work as an organized team to always make the highest quality American-made plastic products.
Brand Quality
We try our best to provide valuable products and services while maintaining competitive prices. Also, we make sure our staff works in the most excellent working environment. Thus, we treat our staff as associates, giving them the chance to grow in accountability and compensation.
Above all, our company treats every person with the respect they deserve. Our ethical approach helps us to build long-lasting relations.
Our advanced Stic-N-Pic adhesive retail merchandising system consists of the Auto-Stic Machine and the retail Stic-N-Pic adhesive merchandising strip. In addition, we manufacture standard Retail Merchandising Strips.
Final Word from Tru-Vision Plastics, Inc.
Face shields provide additional face and eye protection from various hazards. However, wearing additional safety protection such as glasses beneath your face shield is recommended since their sides and bottom usually have gaps. Debris or liquid can pass through these gaps and reach your eyes and face, possibly causing an injury. Ensure you have taken the time to assess the potential dangers in your work area and choose suitable face and eye protection. Also, check face shields regularly, and never wear a damaged face shield.
To find out more about face shields and our other products, visit our website or contact us at (979) 836-1091. Tru-Vision Plastics, Inc. is ready to discuss with you what you need.