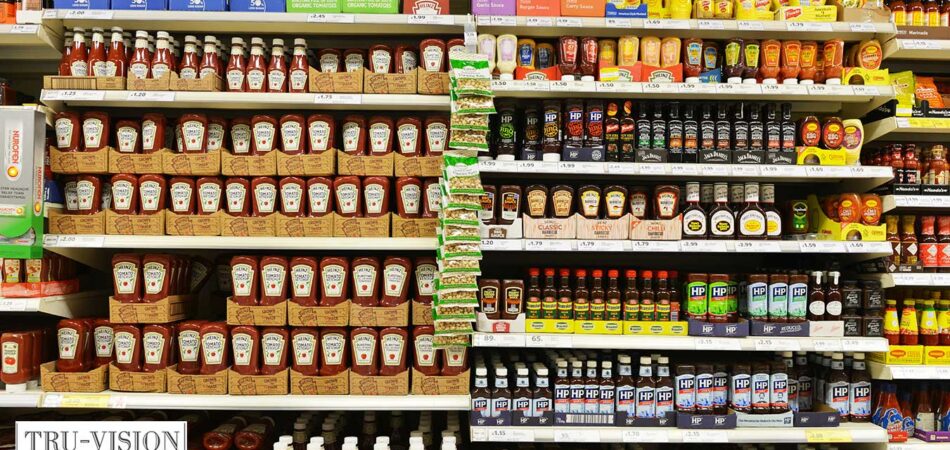 Retail merchandising strips consist of a length of metal or plastic with clips or hooks at regular intervals for hanging merchandise. They line most commonly at the front edge of shelves in retail businesses.
Some are designed to hold lighter products and come with longer or shorter spacing to fit the product's size better. Others are for bulkier, heavier merchandise.
The idea behind the Stic-N-Pic strips invention was to have new ways of merchandising products at retail and eventually increase sales, including "impulse sales."
Types Of Retail Merchandising Strips
Retail merchandising strips are clear, so they don't pull away the attention from the merchandise as it sells down. The strips also don't hide the merchandise behind them. 
There won't be any problem if the client decides not to buy your product because they or a store worker can stick the product back on the adhesive section.
With retail merchandising strips, your merchandise will be visible to potential customers. The strips come in various attaching methods that range from interlocking hooks to Stic-N-Pic strips with adhesive spots. All of them allow easy attachment of your merchandise.
They also come in various mounting types, from Channel Mount to just using an S-Hook, and with adhesive.
They are manufactured from high-density polyethylene. The strips are mostly available in different thicknesses, including:
.020 (.508 mm) for lightweight merchandise

.024 (.6096 mm) for standard-weight merchandise

.030 (.762 mm) heavy-weight merchandise

.040 (1.016 mm) for heavier merchandise
Common Uses of Tru-Vision Stic-N-Pic Strips
Retail merchandising strips are used to get the most out of storage and display space at the shelf edges. They are widely used by distributors to display items.
When strategically placed throughout your retail store, retail clip strips can help to promote impulse sales and cross-selling.
The strips hang from product store fittings saving space on retail shelves while offering an exceedingly noticeable presentation of your merchandise.
You can position your retail merchandising strips anywhere in your store, meaning they are much more versatile. Moreover, because they don't take up any space on the shelf, you can allocate your space more precisely to the products that deserve it.
The retail merchandising strips also allow you to get incremental sales. This is because they can cross-merchandise products in areas with high traffic and during peak seasonal sales in a short time. 
Cross-merchandising products is a powerful marketing practice that can significantly move products faster, increasing your sales. In addition, retail merchandising strips are your cost-effective solution for product placement.
Retail merchandising strips can also serve multiple purposes, such as:
Educating your customers about the products you stock

Advertising your latest deals or promotions

Encouraging impulse buying
Retail merchandising strips are used for one goal, increasing retail store profits.
Best Place to Order Stic-N-Pic Retail Merchandising Strips
Many distributors consider adding retail merchandising strips at the end caps throughout their shelving. These merchandising tools complement the more noticeable elements of your store. They are great for displaying items with perforations or carded items. 
Tru-Vision Plastics, Inc. is ideal for you if you're looking for a place to order Stic-N-Pic Retail Merchandising Strips, plastic die-cutting, or recent ways of selling retail merchandise.
We have a wide selection of retail merchandising strips to choose from. We help our customers to match the right display strips with the product. Choose from plastic or metal strips of all shapes and all sizes with hooks, clips, or adhesives.
Our Stic-N-Pic retail merchandising strips are perfect for an extensive selection of packages that don't have hang holes. 
Their patented adhesive permits merchandise to stick well, making filling easy and fast. It also permits customers to re-attach items themselves without problems.
Since 1999, the company has been in operation and is proud to have more than two decades of knowledge in the industry.
The company is a plastics producer that supplies two major industries. We, in addition, provide custom die-cutting products. We are also well known for manufacturing high-volume and quality Aggregate Blasting Lenses and OEM Face Shields.
Tru-Vision Plastics, Inc. is a one-stop place where you can get the original Stic-n-Pic Retail Merchandising Strip.
We do our best to partner with custom plastic solutions with our valued customers. We work as a cohesive team, and our customers as part of our team in making American-made, highest-quality plastic products every time. We clearly understand our customer's views and expectations.
Our company has immense abilities, although it focuses mainly on supplying retail products. Our brand products include:
The ever-improving ANSI-compliant visors.

Auto-Stic Machines.

Face shields.

Custom plastic items for retail selling.
Irrespective of the product or the customer, we try our best to offer quality products and excellent services while maintaining fair prices.
We have an excellent working environment for our workers and treat them as associates. This allows them to have a chance to grow in liability and compensation.
Most of all, we treat everyone with the honor they deserve. We believe in ethical approaches to building relations that last.
Tru-Vision Plastics, Inc. is known for its advanced Stic-N-Pic adhesive retail merchandising strip system, including the inventive Auto-Stic Machine as well as the Stic-N-Pic adhesive retail merchandising strip.
We produce standard retail merchandising strips as well. We have a leadership team at the wheel of our operation with over 40 years of management experience and 50 years of production experience.
Final Words from Tru-Vision Plastics, Inc
Retail merchandising strips are a vital tool in any retail store. Many retail stores rely on these strips to provide their customers with key product information. They also upgrade the appearance of the shelves in your retail store.
Whether you want to hang lightweight products or require additional support for heavy displays, we can meet all your merchandising needs. We're solutions providers, not just plastics manufacturers.
For more information on our products, visit our website or contact us at (979) 836-1091. We are ready to discuss your needs and partner with you to get a solution for them.